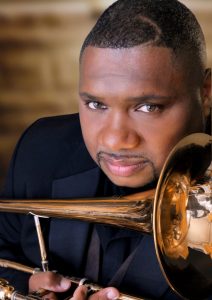 Wycliffe Gordon (trombone, Georgia, '84-'85)
Renowned American jazz trombonist Wycliffe Gordon's multi-faceted career includes arranger, composer, band leader, and music educator at the collegiate-conservatory level. Additionally, he is a vocalist, plays didgeridoo, trumpet, tuba, and piano, and is a longtime Yamaha clinician. His career includes member of the Wynton Marsalis Septet, 1989-1995, original member of Lincoln Center Jazz Orchestra, 1995-2000, a frequent guest artist on Billy Taylor's "Jazz at the Kennedy Center" Series, arrangement of the theme song to NPR's "All Things Considered" heard daily across the globe. His show "Jazz a la Carte" was named one of the five best moments in jazz by The Wall Street Journal.
Wycliffe has collaborated with pop and jazz greats David Sanborn, Wynton Marsalis, Paul Simon, Natalie Merchant, Rene Marie, Dianne Reeves, Anat Cohen, Ricky Skaggs, Arturo Sandoval, Doc Severinsen, Dizzy Gillespie, Lionel Hampton, Tommy Flanagan, Shirley Horn, Joe Henderson, Eric Reed, Randy Sandke, and Branford Marsalis, among many others. Visit WycliffeGordon.com for more information. Wycliffe met his future wife April Brumfeld (trumpet, Kentucky, '84-'85) in the McDonald's All-American Band. April is President and Founder of Brumfield & Associates Music, Inc. where she represents Wycliffe Gordon among other distinguished artists. She is a charter participant of the AAAB.
---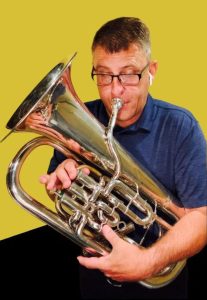 David A. Lang (euphonium, Iowa, '83-'84)
David A. Lang was a member 0f the 1983 McDonald's All-American HS Band and is now a recently retired band director. He had an extremely successful 32 year career, with the majority of his teaching at Independence High School in Independence, Iowa. Mr. Lang is a graduate of The University of Iowa, where he earned his Bachelors in Music Education. David's ensembles have appeared at the Iowa Bandmasters Association Conference nine times. The Independence Jazz Orchestra was selected to perform at the 2005 IAJE Regional Conference in Chicago. Bands under his direction have received Division I Ratings at the I.H.S.M.A. State Contests in every category including marching band, concert band, and jazz band. David has had nine State Champion Jazz Bands. The Independence Mustang Marching Band was BOA Regional Class A Champion and Finalist in 2019 and received 8th Place at the 2018 & 2019 Grand National Championships. He has also been guest conductor for many conference and IBA District Honor Bands, and has been a guest conductor at the All-State Music Camp at the University of Iowa.
David is a frequent guest soloist with area community bands and high schools. While studying at the University of Iowa, he performed as a guest soloist with all three School of Music Concert Bands. He was the first place winner in the Leonard Falcone International Euphonium Competition. He was also the Grand Prize Winner in the Des Moines Symphony Young Artist Competition and performed a Concerto with the Des Moines Symphony Orchestra. He has toured Europe with The Iowa's Ambassadors of Music as a low brass instructor and euphonium soloist ten times.
David has won many education awards including: NEA and ISEA Awards for Excellence in Teaching; KCRG A+ for Education Award; KGAN Golden Apple Award; IBA & NEIBA Karl King Distinguished Service Award – Active; NEIBA Philip Sehman Excellence in Teaching Award; Colts Drum & Bugle Corps Hall of Fame, and Independence Chamber of Commerce Teacher of the Year.
David is currently active as a judge/clinician for area bands and festivals. He serves as a mentor to first and second year band directors through the Iowa Bandmasters Mentorship Program. He is a performer in several musical ensembles including: Iowa Brass Band, Bluetones Jazz Collective, DTKK German Band, and the Cedar Rapids Municipal Band.
David's wife, Lisa, retired in 2019 after teaching elementary band for 33 years. They share their home with three beautiful cats: Louis, Meowsers and CoCoRoo.
---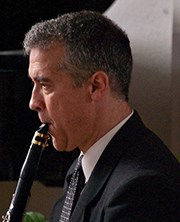 Douglas Moore-Monroe (clarinet, Michigan, '80)
Douglas Moore-Monroe is associate professor of clarinet at East Carolina University. Monroe has been on the faculty of Interlochen Arts Camp and since 2015. Douglas has performed as concerto soloist with orchestras and wind ensembles at many distinguished venues in the country. Before entering academia, Moore-Monroe performed with United States military bands. He began as clarinetist with the United States Army Field Band, Washington, D.C., where he performed as concerto soloist and was a founding member of the United States Army Field Band Clarinet Quartet. Monroe was accepted into the United States Air Force's conductor program. While in the Air Force, he was commander/conductor of both the USAF Band of the Golden West at Travis AFB, CA, and the USAF Heritage of America Band at Langley AFB, VA. One of the highest honors of his military career was leading the musical performance for the interment ceremony of President Ronald Reagan in 2004. In fall 2018, he taught at the Beijing Central Conservatory of Music, China.
---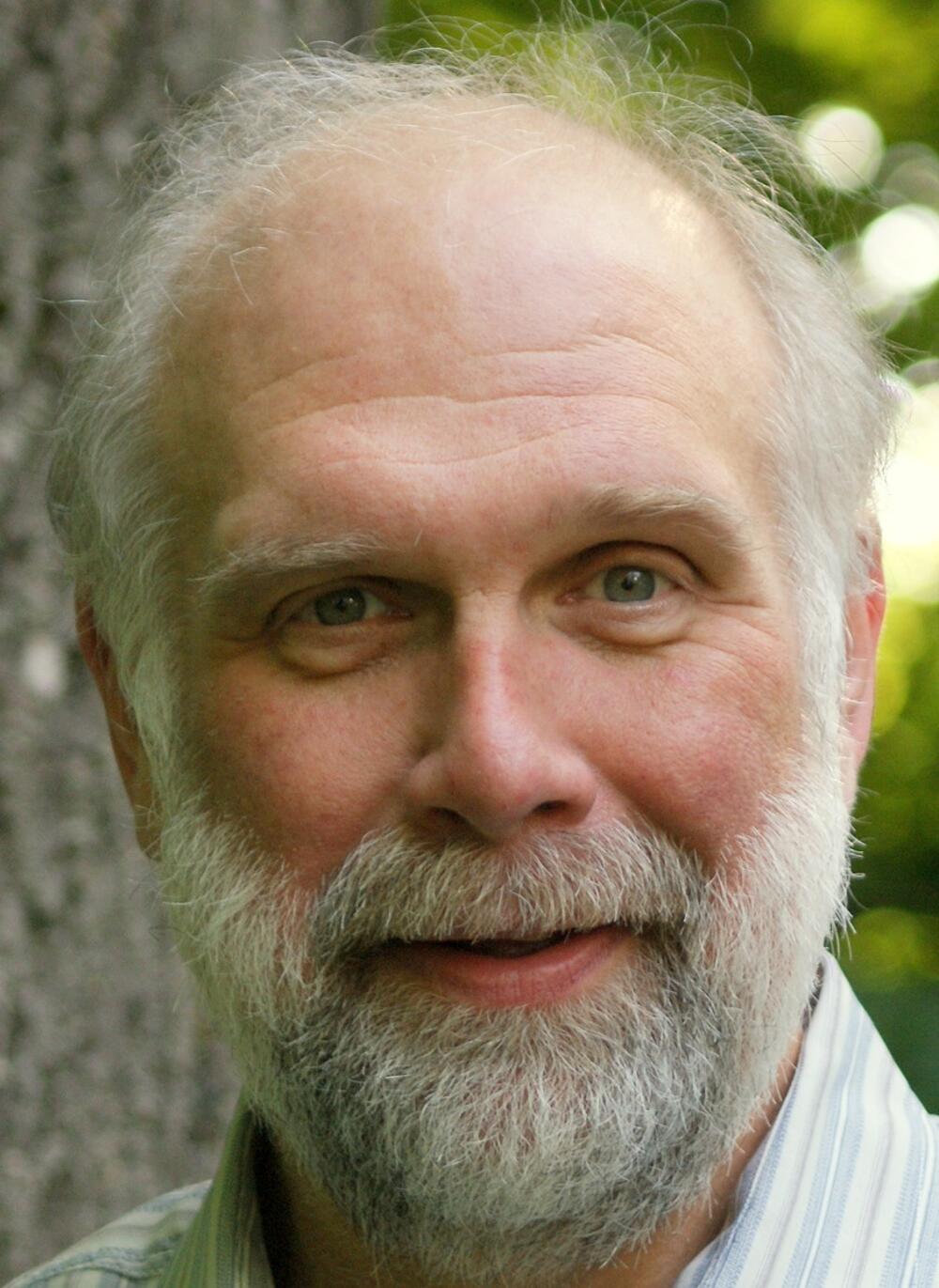 Kim Scharnberg (trombone, Iowa, '77-'78) 
Kim Scharnberg is a professional arranger, orchestrator, composer, conductor and music producer for Broadway, film, television, recordings, concerts and commercials. Kim's various arrangements have been performed by such noted orchestras as the Boston Pops and the Atlanta Symphony Orchestra. He has orchestrated several Broadway musicals including Jekyll and Hyde, The Scarlet Pimpernel, The Civil War, Wonderland and Little Women for which he received a Drama Desk nomination. Kim has also written orchestrations for television and for many feature films, including A River Runs Through It, Quiz Show, Made In America, The Net, Fly Away Home. He co-produced the Grammy-nominated Jekyll and Hyde cast recording, Jekyll and Hyde — The Complete Work, the Scarlet Pimpernel cast recording, Scarlet Pimpernel Encore, the Civil War concept album, the Little Women cast album and Linda Eder's Gold and Christmas Stays The Same CDs, among many others.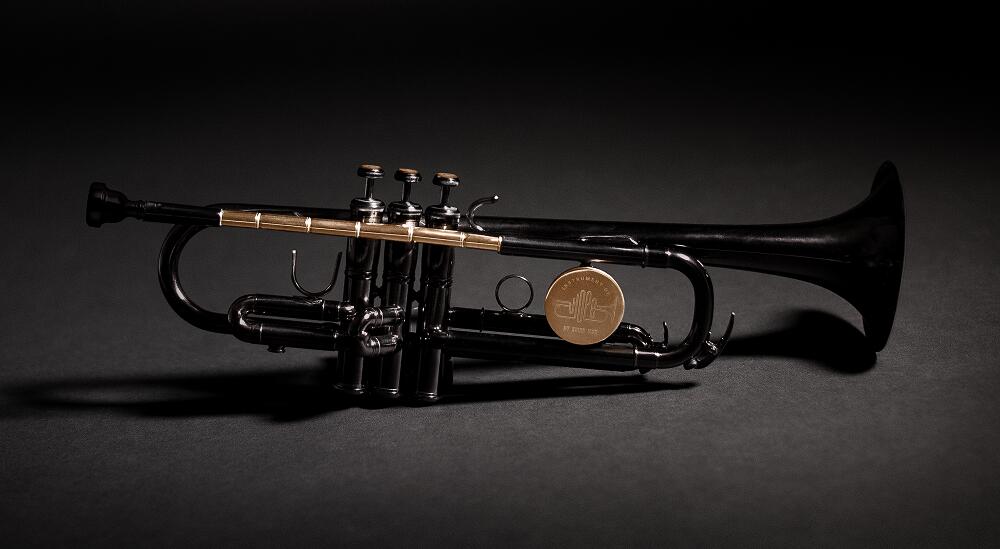 Kim's most recent project, he states, "For the past two years I've been working with Shine MSD, a non-profit organization started by student survivors of the 2018 Marjory Stoneman Douglas High School shooting in Parkland, Florida. Last year they commissioned the Instrument of Hope, a trumpet made from spent bullet casings to keep the conversation about gun violence prevention going."
"In June, I gathered 66 of the finest trumpet players in Los Angeles and New York City to record a new arrangement of Shine, the anthem written by two surviving MSD students. These historic sessions were filmed by Academy Award nominated cinematographer and director Mikael Salomon and features legendary players Arturo Sandoval, Wayne Bergeron, Randy Brecker, Terell Stafford, Chuck Findley and many more. The video was premiered at the Sundance Film Festival and has garnered more than half a million views." Discover more information at InstrumentOfHope.org and KimScharnberg.com
---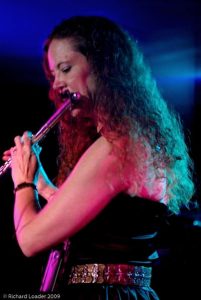 Deborah Yates (flute, Colorado, '78-'79)
Accepted into her first symphony orchestra at the age of 13, Deborah Lee Yates was touring Europe at 16, playing piccolo with symphonic orchestras. Deborah attended the University of Northern Colorado, on full scholarship, as one of the youngest students to be accepted into the Music Performance Program. She has performed with symphony orchestras worldwide, musical theater, ballet orchestras, chamber ensembles, solo performance, and symphonic bands. Her musical theatre work has included touring off-Broadway shows. Deborah has played flute throughout the world, including Jagz at the Station in Ascot, England, and the Fringe Festival in Edinburgh, Scotland, before piloting her world fusion band, Vortex Tribe, around the world.
She tours and performs with amazing performers including Jon Mulvey and Stuart Hamm both of Joe Satriani and Prairie Prince from The Tubes. She also performed, toured and recorded with members of Return to Forever and Santana. During the pandemic, Deborah was active in virtual masterclasses, recording, and composition. Today you'll find her performing with the Oakland Symphony, Awesome Orchestra, Piedmont Chamber Orchestra, Camillia Symphony, and the Sacramento Flute Choir.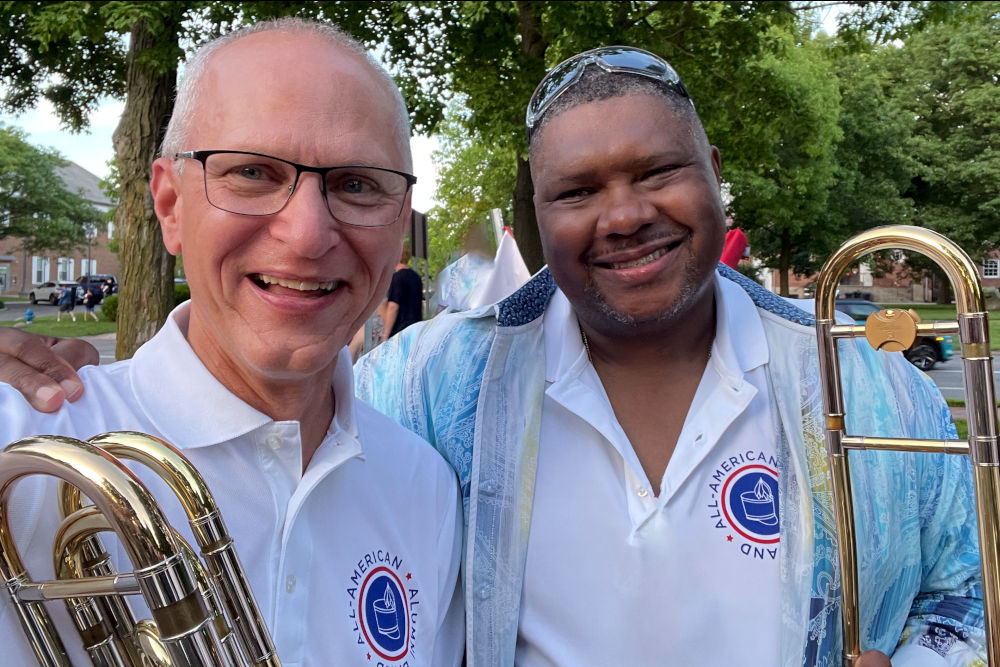 Douglas Yeo (trombone, New Jersey, '72–'73)
Recognized worldwide as a leading low brass performer, teacher, scholar, and author, Douglas Yeo was bass trombonist of the Boston Symphony Orchestra from 1985 to 2012. Before coming to Boston—where he also taught at New England Conservatory of Music)—he was a member of the Baltimore Symphony, a free-lance musician in New York City, and a high school band director in Edison, New Jersey. He served as professor of trombone at Arizona State University from 2012–2016 and is currently trombone professor at Wheaton College, Illinois.
Douglas received his Bachelor of Music degree from Wheaton College and his master's degree from New York University. In 2014 he was the recipient of the International Trombone Association's highest honor, the ITA Award, given to him "in recognition of his distinguished career and in acknowledgment of his impact on the world of trombone performance." He has given master classes and recitals on five continents and has held residencies around the world including the International Trombone Festival (six times), the Banff Center (Canada), the Hamamatsu International Wind Instrument Academy and Festival (nine times) and the Nagoya Trombone Festival (Japan), the International Trombone and Tuba Festival (Beijing), and the Dutch Bass Trombone Open (Holland).
He is the author of dozens of articles as well as five books including An Illustrated Dictionary for the Modern Trombone, Tuba, and Euphonium Player (Rowman & Littlefield), Homer Rodeheaver and the Rise of the Gospel Music Industry (co-authored with Kevin Mungons, University of Illinois Press), and Mastering the Trombone (co-authored with Edward Kleinhammer, Ensemble Publications). His website, yeodoug.com (1996), was the first site on the Internet devoted to the trombone, and his blog, thelasttrombone.com—Occasional thoughts on Life, Faith, and the Trombone—was launched in 2016.